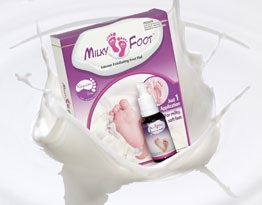 This week PD is giving five readers the chance to win a Milky Foot Care Pack, courtesy of BioRevive. 
Every day our feet are under constant pressure, resulting in rough, hardened skin with painful dry cracks. Smooth silky feet are essential, especially with summer around the corner.
If you don't have time for salon pedicures, simply make a date with Milky Foot Exfoliation Pads and Milky Foot Essence. Milky Foot provides you with an effortless two-step at-home pedicure system.
For your chance to win this pampering prize, be first to send in the correct answer to the question below to comp@pharmacydaily.com.au
Monday 08 October 2012
What's the price of Milky Foot Essence?
Tuesday 09 October 2012 
How many sizes are Milky Foot Exfoliating Pads available in?
Wednesday 10 October 2012 
What's the price of Milky Foot Exfoliating Pads?
Thursday 11 October 2012
Does Milky Foot – Australia have a Facebook page?
Friday 12 October 2012 
What is Milky Foot Exfoliating Pads' active ingredient?
Hint! Visit www.biorevive.com/products/milky_foot/