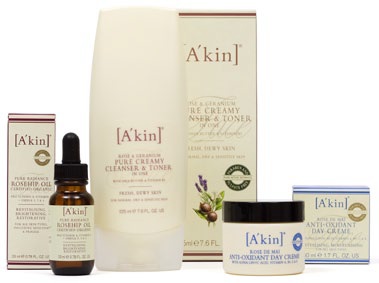 This week Pharmacy Daily has teamed up with A'kin and is giving five lucky readers the chance to win one of their luxurious skincare packs, valued at $90.
Refresh and revitalise your skin with this beautiful prize pack containing three A'kin favourites, starting with Rose & Geranium Creamy Cleanser & Toner in One, followed by Rosehip Oil, and Rose de Mai Anti-Oxidant Day Creme.
For your chance to win, be the first person to send in the correct answer to the daily question below.
Monday 27 Aug 2012 
What are the benefits of A'kin Rosehip oil?
Tuesday 28 August 2012 
Which company does A'kin belong to?
Wednesday 29 August 2012
Fill in the blank: A'kin is free from _______________
Thursday 30 August 2012 
True or False? A'kin products are vegan.
Friday 31 August 2012 
Who would you recommend A'kin products to?
Email your answer to comp@pharmacydaily.com.au 
Hint! Visit www.purist.com or www.facebook.com/akinbypurist.