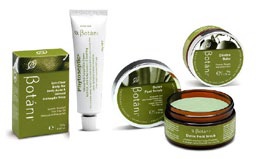 Every day this week, Pharmacy Daily is giving one lucky reader the chance to win a Happy Feet Pack, valued at over $65, courtesy of Botani.
Feet are often the most neglected part of the body, but they take a lot of hard wear and tear. It is important to treat our feet with love and respect as they support us.
Botani's happy feet program will keep your feet beautiful and happy, with the Eco-Clear Body Bar (for cleansing), Detox Foot Scrub (exfoliating dead skin), Phytoseptic Anti-Fungal Cream (treatment) and Olivéne Repair Balm (to moisturise and soften).
For your chance to win this great prize pack, simply be the fi rst person to send in the correct answer to the daily question below.
Monday 03 September 2012
What are the four key functions of Phytoseptic Natural Anti-Fungal Skin Cream 30g?
Tuesday 04 September 2012 
What are 3 conditions Phytoseptic treats?
Wednesday 05 September 2012
What skin problems does Olivéne Repair Balm treat?
Thursday 06 September 2012 
Eco-Clear Body Bar features one key ingredient which has antiseptic properties… can you name it?
Friday 07 September 2012 
What's the key ingredient in Detox Foot Scrub which exfoliates dead skin on your feet & removes impurities?
Send you answer to: comp@pharmacydaily.com.au.
Hint! Visit www.botani.com.au