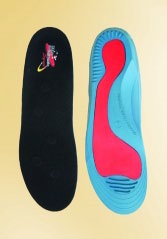 Pharmacy Daily has teamed up with Lightning Brokers this week and is giving five lucky readers the chance to win a BioMagentic Sport products prize pack, valued at $110 each.
Each prize pack includes a Magnetic Back Support Belt and Moulded Insole Pack.
BioMagnetic Sport products offer more than regular sport wraps and supports. Loaded with therapeutic magnets, they specifically target painful trouble spots. The Back Support is their number one seller and the New Moulded Insoles have been a popular favourite since joining the range. You've got nothing to lose but your pain!
To win, simply be the first person to send in the correct answer to the question below to:
comp@pharmacydaily.com.au.
Monday 05 November 2012
Fill in the blank: The Back Support helps improve ________ circulation and promote the body's natural healing process.
Tuesday 06 November 2012 
Fill in the blank: Moulded Reflex Soles have specially designed ________ to ensure support, comfort, and shock absorption.
Wednesday 07 November 2012 
How many magnets does the BioSport Back Support have?
Thursday 08 November 2012 
What are BioMagnetic Sport products loaded with?
Friday 09 November 2012 
How long is BioSports Money Back Guarantee?
Hint! Visit www.biosports.com.au