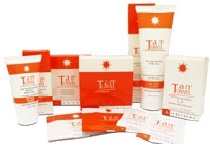 Everyday this week PD is giving one lucky reader the chance to win a TanTowel pack, courtesy of Lightning Brokers – a national pharmaceutical brokerage that builds your business.
Look good naked with TanTowel! The pack, valued at $131, includes the full sunless tan range to give you the skin you deserve!
For your chance to win, be the first person to send through the correct answer to the question below to
comp@pharmacydaily.com.au 
Monday 24 September 2012 
Who started TanTowel in 1998?
Tuesday 25 September 2012 
When was TanTowel started?
Wednesday 26 September 2012 
What key three ingredients does TanTowel On the Glow contain?
Thursday 27 September 2012 
What does the clear self-tanning formula react with in your skin?
Friday 28 September 2012 
Which TanTowel product is a 3-in-1 towlette?
Hint! Visit www.tantowel.com.au